NASA bietet die Chance, die APOLLO 11 - Mission in Real Time (RT) mitzuerleben
- 50 Jahre später ! Der Start erfolgte heute vor 50 Jahren: 1969-07-16
Alle Details entnehmen Sie bitte den folgenden Originalinformationen der NASA:
______________________________________________________________________________________________________
Apollo 11 in Real Time, 50 Years Later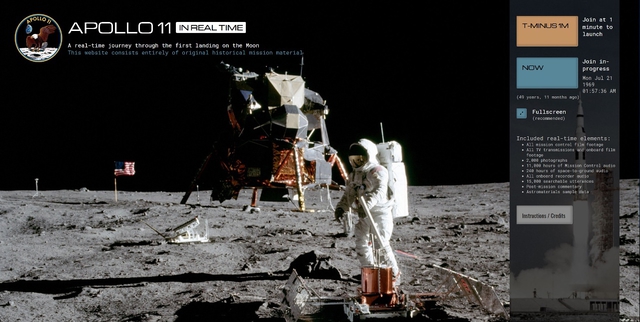 The main page of Apollo 11 in Real Time. Visitors can either begin the mission at the time of launch or they can choose to click "Now" and experience it 50 years later to the second
Credits: apolloinrealtime.org
Cont'd -> click on "Weiterlesen"                                                                                                                                 
Over half of the Earth's current population was not alive for the first Moon landing. But, even those who had the opportunity to watch the Apollo 11 mission live on television in 1969 only had a limited view of all that was happening. If we had been able to apply current, cutting-edge technology to the experience what would it have been like?
A Step Back in Time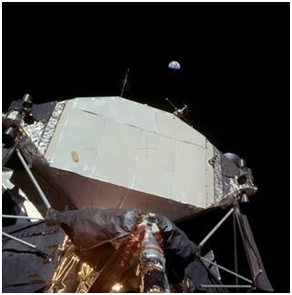 Photo of the Earth from the moon taken by Apollo 11 astronauts on 20 June 1969. One of many photos timestamped and organized temporally on apolloinrealtime.org
Credits: NASA/apolloinrealtime.org
Software developer Ben Feist has created a time machine that answers that question. Built over 2 years, apolloinrealtime.org is an interactive, multimedia website that plays back the Apollo 11 mission as it happened in 1969. The website accounts for each second of the mission, from 20 hours before launch to just after recovery. Feist synced all forms of media to mission time, giving visitors to the site the unique opportunity to experience the Apollo 11 mission its entirety. Every photo, video, and recording, is organized chronologically and synced to mission time. The website includes 11,000 hours of Mission Control audio, 2,000 photographs, 240 hours of space to ground audio, and information on each of the lunar surface samples collected by Armstrong and Aldrin. The timeline at the top of the page keeps track of your place in the mission and highlights interesting moments. A search function enables users to look through the transcripts, commentary, and samples.
Feist and his collaborator, archivist Stephen Slater, have done amazing things that will allow site visitors to hear and see things that even people working on the mission wouldn't have been able to experience. There is a panel which contains the audio of every control position in Mission Control and several other communication loops.
Visitors can open this panel at any second of the mission and be able to hear such things as the flight surgeon threatening to quarantine the entire USS Hornet (34:48:49).[1] The Mission Control audio have only recently been digitized, but creating the version of this audio you will hear on the site was one of the more difficult feats accomplished during the 2-year process. According to Feist, "The digitized analog tapes suffered from both high- speed variations and overall playback speed problems. It was looking like it would be impossible to sync them to mission time, but with the help of others, I was able to crack the case."
This is not Feist's first foray into space history. Inspired by the Apollo Lunar Surface Journal (ALSJ), a website that holds a vast collection of Apollo media, he had created a similar website that recreates the Apollo 17 mission. Feist wanted to make an experience with the same depth and breadth of information as the ALSJ, but one that had even more interactive capabilities. So in 2009, he began a 6 year project that would later
become apollo17.org. Like apolloinrealtime.org, every media element in apollo17.org is synced to mission time.
Apollo17.org ended up sharing much of its code with apolloinrealtime.org. However, for
apolloinrealtime.org, Feist expanded his project by adding the new Mission Control audio and the information on lunar samples. Additionally, he developed a mobile version of the site which focuses on Mission Control.
Feist recently joined the Astromaterials Research and Exploration Science Division at Johnson Space Center (JSC) as a software engineer. Feist's job is, in his own words, "to create new techniques to manage and visualize the large quantity of proliferating real-time scientific and operational data on future missions, with the aim of enabling future crews and mission managers to be able to quickly jump back to a previous moment during
a mission in order to triage, understand, and act upon timely information." His data visualization in real-time work draws in no small part on his Apollo in Real Time projects.
"Likeable, Regular People"
Beginning July 16th, visitors to the website will be able to click the "Now" launch button and experience the mission exactly 50 years later to-the-second. The visitor will get to experience moments that have been immortalized in history books. The launch of the rocket (00:00:00), the first steps on the moon (109:23:40), the landing of the Eagle (102:46:02): these are moments that are typically viewed in a global and historical context. However, it is Mission Control that is given the spotlight on apolloinrealtime.org. Even 50 years later the tension in Houston is palpable. When the LM touches the lunar surface you can feel the collective exhale and watch the anxious hands unclasp in relief. The website reminds us that the response to "The Eagle has landed" was "You got a bunch of guys about to turn blue. We're breathing again. Thanks a lot." (102:46:02)"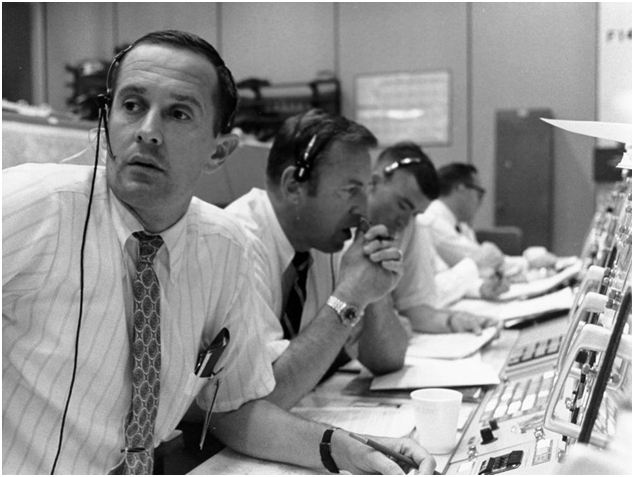 Mission Control monitoring the lunar landing
Credits: NASA
Apolloinrealtime.org also captures the "smaller" moments of history. For example, one of Feist's "mission highlights" is Mission Control's morning delivery of Earth news to the astronauts, including an update on their families, a sports report, and a personalized horoscope (72:29:34). Another endearing moment is captured during the trip to the moon when Buzz Aldrin decides that it is time to listen to some music and plays a tape of Peggy Lee and Barbra Streisand songs (83:48:57). Even before the rocket left the ground some good old-fashioned teasing was caught on the recovery loop between a man in Mission Control who overslept and his amused colleagues (-02:27:33). These small human moments are a common thread throughout the mission, reminding us that the men and women who worked on the Apollo program were, as Feist puts it, "very likable, regular people just doing a job." What this website truly highlights is the ordinary roots of extraordinary feats.
Ben Feist has given us a gift in apolloinrealtime.org. The Apollo 11 moon landing was a once-in-a-lifetime experience, but now the mission in its full context is at the world's fingertips. The website is so filled with material that there seems to be something new to discover every minute. So take a few minutes, take an hour, take 9 days and explore this gem. There's something for everyone. Feist says it best: "If you're a space aficionado, researcher, historian, or anyone else with a deep interest in the topic, it should deliver new insight. If you're just mildly interested it should pull you in a little and show you what humanity can achieve when we collectively put our minds to it."
To explore more of the Apollo 11 mission in real time, visit: https://apolloinrealtime.org/11/
[1] Hour 34, minute 48, second 49.
Last Updated: July 12, 2019 Editor: Catherine Baldwin
(c) Courtesy of NASA
___________________________________________________________________________________________________