Save the Date: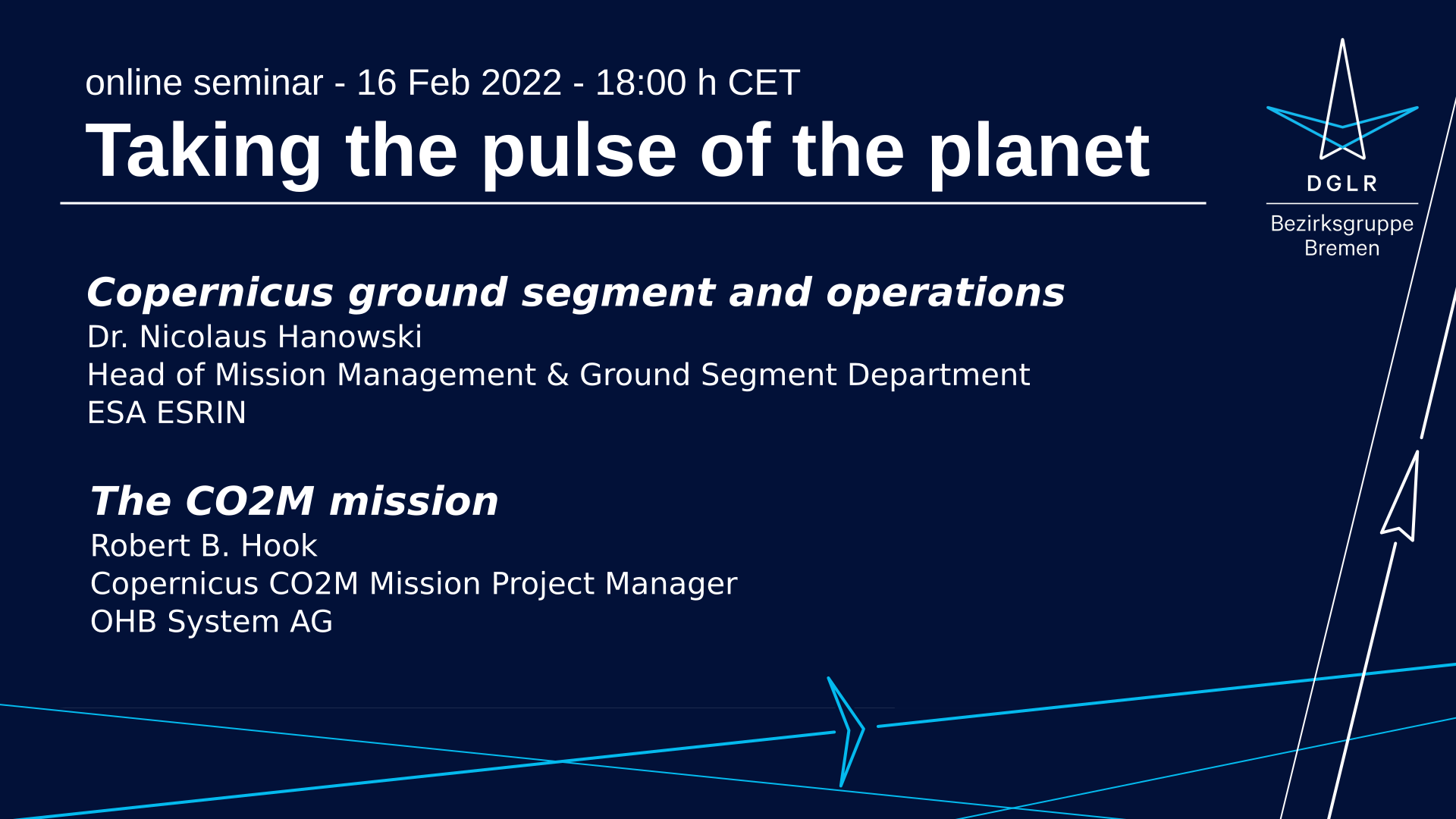 Die DGLR Bezirksgruppe Bremen bietet im Februar das erste online Seminar in 2022 an.
            Es wird das  "Erdbeobachtungsprogramm Copernicus" behandeln.

 "Taking the pulse of the planet" will be the motto of our next DGLR Bremen online seminar !
Dr. Nicolaus Hanowski is ESA's Head of Mission Management & Ground Segment Department and will give us an overview on the ground segment and operations of the most ambitious earth observation program: Copernicus.
Robert Hook, Copernicus CO2M Mission Project Manager at OHB System, will give us insight into the design and development of the Copernicus CO2M mission. CO2M aims to precisely measure the CO2 emissions into the atmosphere, allowing to track the progress in achieving the Paris climate agreement.

 Join us for the seminar on 16 Feb 2022, 18:00h CET by registering for free via https://bremen.dglr.de/
 Seminar language will be English.
 We are looking forward to seeing you 16 Feb !
 Best Regards
 Andreas Reim,  This email address is being protected from spambots. You need JavaScript enabled to view it.
 Hassan Chraibi, This email address is being protected from spambots. You need JavaScript enabled to view it.
 DGLR Bremen
 https://twitter.com/bremendglr
 https://www.instagram.com/bremendglr/
 https://www.linkedin.com/company/bremendglr
 Deutsche Gesellschaft für Luft- und Raumfahrt - Lilienthal-Oberth e.V. (DGLR)
 Godesberger Allee 70
 53175 Bonn
 Deutschland
 Internet: https://www.dglr.de 
_____________________________________________________________________________________________________